The semiconductor supply chain has evolved into a significant strategic asset in geopolitics. Russia restricted the export of noble gases, including neon, a critical component in chip manufacturing thus taking a strategic stance towards rectifying global shortage. Earlier, Japan restricted exports of high-purity hydrogen fluoride, an etching gas used in semiconductor manufacturing, to South Korea. The US Chip Act has temporarily challenged the supply chain for Chips in America, restraining companies focused on manufacturing of chips in America from sourcing lagging end chips from Chinese Chip manufacturers. Continuous COVID-19 outbreaks and heat-induced power outages in China have impacted raw material supply and the trade associated with Chinese chip producing companies, assembly, and testing thus inducing shortage. Furthermore, the Russia-Ukraine conflict has raised prices and limited the supply of raw materials used in semiconductor production, causing havoc in the industry's key markets thus driving the global shortage.
DECLINE IN  US CHIP PRODUCTION
The United States Senate and House of Representatives passed the US CHIP Act in July 2022 to bolster manufacturing of Chips in America, which includes $52 billion in government subsidies for semiconductor research and production in the United States. The bill also facilitates manufacturing of Chips in America with tax breaks totaling $24 billion, intending to increase manufacturing of Chips in America and alleviate some of the supply chain issues plaguing the country's automotive and consumer electronics industries, among others. The performance of all significant U.S. defense platforms and systems depends on semiconductors thus the global shortage serves as a market restraint. As a result, the United States' capacity to defend itself is directly threatened by the deterioration of  manufacturing capabilities in microelectronics and Chips in America. Based on the data from Semi-Conductor Industry Association, The United States now only accounts for 12% of the world's semiconductor production capacity, down from 37% in 1990 owing to the global chips shortage. 75% of the world's modern production of chip is now concentrated in East Asia owing to Chinese chip manufacturers and the growing Chinese semiconductor industry. However, within East Asia, Taiwan accounting for the lion's share followed by Chinese chip manufacturers owing to the fast growth rate of Chinese semiconductor industry.
THE AI THREAT
The vulnerability of the United States is especially acute in terms of the most advanced chips currently in production thus serving as a driver for the shortage, which are critical to the development and application of artificial intelligence (AI)—intelligence generated by machines—which is expected to revolutionize warfare. Chinese semiconductor industry leaders and Chinese chip manufacturers have set a goal of developing a fully modern military by 2027 investing heavily in technical areas that support such an approach, such as artificial intelligence, quantum computing thus challenging the global shortage.
AI allows computer systems to solve problems and perform tasks that would typically require human intelligence, eventually at speeds and performance levels far exceeding those of humans. Human operators will not be able to outmatch multiple machines making thousands of decisions per second across numerous systems, nor will they be able to counter an adversary's AI-enabled missile attack, strike against communications satellites and infrastructure, or coordinate firepower strikes, drone swarms, cyber-attacks, and other twenty-first-century threats. Artificial intelligence systems are built on a foundation of interconnected computer hardware powered by cutting-edge semiconductor devices. The extensive use of semiconductors could hereby be hindered by the global chips shortage
According to CSIS, the most advanced AI systems require semiconductor chips with design rules ranging from 7 nm to 5 nm are not in line with the Chips in America's design standards. Intel creates field-programmable gate arrays (FPGA), which are used in AI systems, using 10 nm design rules, which are a generation behind 7 nm. In 2022, the company will begin producing 7 nm Chips in America. Taiwan Semiconductor Manufacturing Co. (TSMC) is constructing a fab in Arizona that will begin operating at the 5 nm node around 2024. However, by this time, the state of the art is expected to have shifted to 3 nm chips, all of which will be manufactured in Taiwan thus challenging the Chinese semiconductor industry and the growth of Chinese chip manufacturers. TSMC is currently the largest contract semiconductor chip manufacturer in the world, with Samsung a distant second. Intel has ambitious plans, the company intends to surpass Samsung Foundry to become the world's second-largest chip production firm by 2030 thus providing a solution to the global shortage.
Global Semicoductor Market Share
Global Semicoductor Sales By Region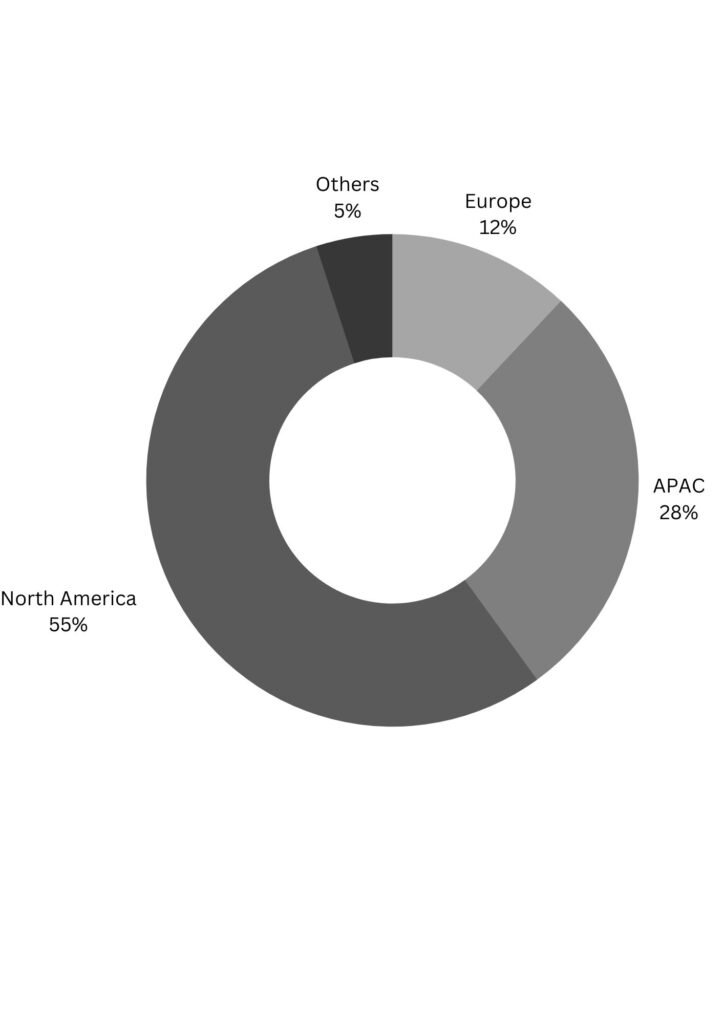 Strategic Initiatives To Relieve Global Chips Shortage
The United States government requires access to advanced microelectronics that can operate reliably in often harsh environments ranging from the desert to the sea to space to boost production of Chips in America. However, given the critical nature of some of its end applications—systems such as satellites, rockets, and missiles—the integrity and security of these SoCs are critical hence challenging the manufacturing of Chips in America. Outsourcing design and manufacturing exposes the country to security threats such as hardware trojans, back doors, overbuilding, and counterfeiting, as well as supply chain disruptions caused by conflicts, natural disasters, or pandemics are some of the efforts made to relieve global chips shortage and its impact on manufacturing of Chips in America.
The ban on export of critical software and machinery to chip manufacturers in China is also a strategic move to stop proliferation of key technology in Chinese semiconductor industry. The US government keeps a close watch on transactions with Chinese chip manufacturers such as Huawei and SMIC to prevent transfer of critical technology.
The Defense Microelectronics Activity (DMEA) serves as the program manager for the DoD Trusted Foundry program, which aims to ensure the confidentiality and integrity of SoCs during chip design and chip production in a cost-effective manner. The program covers the people and processes involved in the manufacture and distribution of microelectronics.
GlobalFoundries has received $30 million in federal funding to accelerate the development and production of gallium nitride (GaN) at its Vermont facility, as the United States seeks to increase domestic production of the advanced semiconductor and Chips in America. The funding is separate from the recently passed US CHIP Act, which aims to rebuild manufacturing capacity of Chips in America and upgrade the country's R&D facilities, both of which GlobalFoundries hopes to take advantage of. The funding is being facilitated by the Defense Microelectronics Activity (DMEA) through the US Department of Defense's Trusted Access Program Office (TAPO). The unit is primarily in charge of acquiring advanced chips for the country's most critical weapons systems thus promoting use of chips in America for defense production. For years, the Department of Defense has supported the development of GaN chips in America for both civilian and military systems through TAPO. GaN is well-suited for high-power, high-frequency chips, which the agency claims it requires to keep its technological edge. The mentioned manufacturing facility for chips in America, also functions as a "trusted" foundry, accepting orders for secure chips in collaboration with the DoD that will be used in some of the department's most sensitive aerospace and defense systems.
As part of the Trusted Foundry Access II program, IBM will continue establishing secure microelectronics manufacturing flows at commercial state-of-the-art fabrication facilities thus boosting production of chips in America. IBM's work can assist DMEA in increasing the domestic capacity of advanced, secure, and trusted semiconductor chips in America (manufactured domestically) for critical military and national security programs. Since 2003, the DMEA Trusted Access Program Office (TAPO) has been in charge of sourcing cost-effective and trusted access to critical microelectronics for the US government. This mission was transferred from the National Security Agency to the DoD's DMEA in 2015 to bolster manufacturing of chips in America. For the past 20 years, IBM has provided secure microelectronics and supply chain services in support of the Trusted Foundry program, assisting DMEA in enabling the manufacture of advanced microelectronics and chips in America by stringent federal government security standards.
State Of Europe & Other Us Allies In Global Chip Shortage
The European Union is planning its own "Chips Act", like the US Chip Act, to boost European semiconductor production, while South Korea has committed $450 billion to its industry and the Japanese government is collaborating with TSMC and Sony to open a new fab by the end of 2024. South Korea will invest $451 billion to become a semiconductor manufacturing powerhouse. In Taiwan, TSMC announced on January 14th that its capital expenditure budget for this year will be $40 billion to $44 billion, up from $30 billion last year! Furthermore, it is unclear whether the strategic imperative that motivates the large return of public policies will benefit the sector or, on the contrary, will undermine its innovative capacity.
India's Role In Chip Production Market
Indian chip production companies and their units are nil. Due to the lack of Indian companies, the market is dependent on external players. However, the government has attempted to attract foreign chipmakers to provide opportunities i. ISMC Digital, a group of investors, intends to construct a $3 billion for Indian chip manufacturing companies. Tower Semiconductor, an Israeli company, would be the project's technology partner thus providing added opportunities to Indian chip producing companies.
No doubt, New Delhi is attempting to entice giants such as TSMC and Intel to relocate to India to boost Indian manufacturing of chip. However, the ISMC Digital plant will produce older generation chips, also known as trailing-edge semiconductors, rather than cutting-edge components manufactured by companies such as TSMC. These trailing-edge chips are still important, but they limit industry's ability to become a global hub for the latest chips, especially as competition between countries increases.
Trailing-edge fabrication is just as important. Manufacturing at these nodes will be required for future applications such as 5G radios. Most current defense applications require trailing-edge chips as well. Military aircraft are mostly only software-driven and rarely require brand-new hardware. Furthermore, the safety and reliability guarantees required by military certification processes are much stricter, thus restricting the growth of Indian companies.
The Indian government has signed an agreement with the Interuniversity Microelectronics Centre (IMEC), a Belgium-based research and innovation hub, to provide technology to manufacture chips of 28 nanometers and above in exchange for a royalty thus boosting Indian manufacturing of chip.
The Ministry of Electronics and Information Technology (MeitY) modified the existing semiconductor policy to boost opportunities for companies and drive the India chip manufacturing sector. The new program included additional incentives to entice companies and consortiums to invest in chip, semiconductor and display fabrication ecosystem thus bolstering India's efforts to remedy the global chip shortage. These incentives include a $10 billion outlay in which the government will provide eligible applicants, i.e. companies, with 50% of the project cost on an equal footing basis. The incentive package will also apply to the establishment of compound semiconductors/silicon photonics/sensors (including MEMS) fabs/discrete semiconductor fabs and semiconductor ATMP/OSAT units. Under this scheme, the government plans to establish at least 20 such units thus boosting the presence of Indian manufacturing of chip in global market. Since the scheme's announcement, many buyers have expressed interest in participating in India chip manufacturing. Recently, companies like Reliance and HCL bid to acquire a 26-51% stake in ISMC Analog.
Vedanta and Foxconn, a Taiwanese electronics manufacturing conglomerate, will invest $19.5 billion to build India's first semiconductor manufacturing plant in Gujarat thus boosting India's production of chip. To reduce reliance on Taiwan and Chinese chip imports as well as Chinese semiconductor industry, the government implemented a financial incentive scheme for domestic semiconductor manufacturing hence increasing opportunities for Indian chip manufacturing companies. Vedanta-Foxconn is one of the successful applicants for the semiconductor Production Linked Incentive (PLI) scheme thus elevating the global chip shortage.
Chips For Space Application And The Impact On This Market
Data stored in the processor cache can be corrupted when exposed to radiation. This is possible in a very narrow window – low timing reduces it significantly, as faster circuits are more susceptible to radiation. Simply put, radiation can affect data storage and damage the processor over time. In the operating conditions of a space station, a launch vehicle, or a probe, this is unacceptable. Previously, the effects of radiation were compensated for by changes in the manufacturing process itself, such as the use of materials such as gallium arsenide. However, each modification was extremely costly. Furthermore, systems for spacecraft are being produced in small quantities in specialized factories. Only the introduction of RHBD technology allowed the standard CMOS process to be used in the production of radiation-resistant chips. Methods such as triple redundancy, which allows for the permanent global chip storage of three identical copies of a single bit, were also used. When one is required, the best one is chosen.
The use of relatively old processors does not imply that no new ones are not being developed. It's just that the process of creating them is difficult and time-consuming. Each structure that will be used in space must meet the MIL-STD-883 class requirements. This entails passing more than 100 tests developed by the United States Department of Defense, such as thermal, mechanical, electrical, and other chip tests to enhance quality for chips in America. Most processors that have passed this test are constructed entirely from the silicon wafer's center. This is since the occurrence of edge defects is least likely here.
Impact On Defense Industry Due To Shortage Of Chips In America
It is believed that persistent semiconductor manufacturing delays are impeding the production of Javelin and Stinger missiles, and that having access to on-shore manufactured chips would help the US deter its adversaries and better assist its partners and allies. A Javelin missile system contains around 270 chips. Ms. Raimondo described the chip shortage as a national emergency during a budget hearing before the Senate Committee on Commerce, Science, and Transportation. It was also stated that shortages of chips in America is impacting defense contractors to supply weapons. Semiconductors are used in missiles used by Ukraine to defend itself against Russia and will be critical in future defence production, according to Lockheed Martin CEO Jim Taiclet. He also stated that while the existing production line "can run today," the future will necessitate more domestic supply and capabilities in semiconductor fabrication and testing.
Impact On Defense Industry In Russia
Russia is down to an estimated 50 hypersonic missiles after using nearly half of its arsenal during its "special military operation" in Ukraine, owing to a serious shortage of military components and microchips imposed by the US-led European sanctions. Zelenograd ("green city"), a new Russian city, has been suggested as a microelectronics and computer development and manufacturing hub. As a result, Zelenograd became the heart and soul of Russia's endeavor to develop advanced military electronics. Mikron, Russia's last major semiconductor hope, is striving to produce technology that is already decades old.
The Russian high-tech industry is primarily concerned with military production. This is in stark contrast to producers in the United States, China, South Korea, Japan, Taiwan, and Europe, all of which have robust commercial industries. Russia may be turning to China for lower-grade chips already, but there is no evidence that China has shared any manufacturing know-how with Zelenograd. China has little to gain by assisting Russia because doing so could result in broader penalties against China's electronics industry. Russia currently lacks a credible and relevant domestic commercial electronics industry and is unlikely to develop one in the foreseeable future under existing conditions. Significant foreign investment and access to the global electronics sector would be required.
Impact On Commercial Aviation Industry Due To Shortage Of Chips In America And Europe
Aerospace businesses are facing shortages of semiconductor chips and polymers, as well as paying far higher prices for basic materials such as steel and aluminum. Input prices are rising at a time when pricing power in the commercial aerospace industry is limited due to overall sluggish demand, making it more difficult for equipment manufacturers and their suppliers to pass on the additional costs to consumers. The aerospace sector could face severe chip shortage and raw materials if demand picks up and the pre pandemic 2019 levels are reached. It is believed that global air travel has recovered to 70-75% of pre pandemic levels.
Indian Chip Manufacturing Companies
India chip production will have to follow the US example and concentrate on establishing leading-edge Indian chip production companies with advanced technologies. There are multiple Indian conglomerates that have shown interest in chip production, once operational Indian chip manufacturing companies could also export a considerable share to the Global chip market.
This will ensure self-reliance for strategic semiconductor requirements within the India chip manufacturing sector especially the Sub 5nm chips that are critical for advanced AI systems. AI-enabled weapon systems will be critical for countering emerging threats and ensuring military dominance.
CONCLUSION
The current Global chip shortage has exposed the importance of indigenization of chip production. A country's chip production capabilities should be able to cater to both the hi-tech industries like Aviation and Defense and to consumer segments. Though the Global chip shortage has not stalled the manufacturing of these systems completely, it has definitely increased the demand due to supply side Global chip shortage
See More:- Indian Defense Sector, Defense Market Data, Aircraft Actuation Market